General
Bali Cycling Tour is one of the Bali Activity Tours by offering Bali Bike Ride bike packages to bike down the magnificent hill of Volcanos Kintamani, Bali and the local village of Jatiluwih Rice Paddy. Bali Cycling Tour offers a bike trip that is truly unique and authentic to combine sightseeing, coffee plantations and cultural views in rotating the countryside which is purely natural. Cycling tours take you away from the usual tourist itineraries and "remote" far in the Balinese countryside where you will be able to witness the daily lives of Balinese people, customs and rituals of their local and their ancient traditions .
Our Bali Tour Company wants to give you exciting experiences, education, sports, and pleasure from Cycling. Our goal is to help you think of the best secrets in Bali – excitement, exploration, breathtaking countryside and villagers are really warm and intimate close. We believe it starts with safety – just use the best equipment, bicycles are maintained continuously, and tours led by English speaking professionals trained in basic first aid, adult, responsible, and who knows how to show the time in your life rain or bright!
The Bali Cycling Tour is designed for tourists who want to go to Bali Village and offer a wide selection of cycling tracks available to you. Not only rural villages and paddy fields, we offer more, lane paths, secret backdrops, dense plantations and bamboo forests some of them. Our route is also flexible and can accommodate different levels of experience. From the easiest to the most challenging is available depending on your requests and wishes.
During the Bali Bike Ride Tour you can stop every time you choose to take photos and visit the locals. You will be able to find out details about village life including rice and vegetable farming, ceremonies and family life or watch woodcarver at work and visit the traditional Balinese complex to see his daily routine. Indonesian lunch menu will be served in a modern Balinese family. Nad then after lunch we'll proceed be back to the hotel.
Select our Bali Cycling Tour Package
Bali Downhill Kintamani Cycling Tour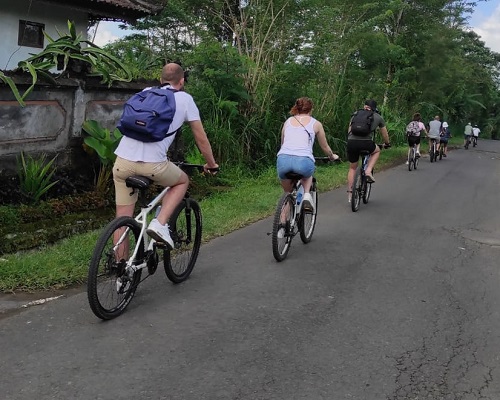 Bali Downhill Kintamani Cycling Tour is a Bali Cycling Tour package to enjoy ride bike from downhill cycling from Kintamani area surrounded  by fresh air and very green scenic trough the village, temple, rice terrace in Bali. includes a light breakfast overlooking Gunung Batur Volcano and Lake before heading to the start point. Feel the exciting Bike Ride Trip with us Bali Cycling Tour!!!
Kintamani Cycling Tour Price :
Adult USD 55
Children USD 45
Family USD 185
Note : Minimum 2 Person
Balinese Village Cycling Tour
Balinese Village Cycling Tour is a Bali Cycling Tour package to enjoy Paddle the bike in to Balinese Village and stopping along the way to chat with village woman and farmers amid their daily work routine. and to laugh at the antics of the small children. Balinese Village Cycling Trip takes you through the back roads of the famous Carangsari Village where you can glimpse the real life and culture.
Balinese Village Cycling Tour Price :
Adult USD 65
Children USD 55
Family USD 195
Note : Minimum 2 Person
Bali Jatiluwih Rice Paddy Cycling Tour
Bali Jatiluwih Rice Paddy Cycling Tour is a Bali Cycling Tour package to feel the experience ride bike in to the famous Jatiluwih rice terrace in Bali islands. Paddle your bike through the world heritage site of jatiluwih, the most beautiful terraced rice paddies in the world. You will be able to find out detail about village life include rice and vegetable farming during this amazing Cycling Trip.
Jatiluwih Rice Paddy Cycling Tour Price :
Adult USD 65
Children USD 55
Family USD 195
Note : Minimum 2 Person
Bali Cycling Tour what to bring :
A small rucksack / backpack for easy access to video / camera.
A hat to put under your helmet is advisable and sunscreen.
A change of clothing short pants, T-shirt.
Wear running shoes or secure sandals and sun glass.
Bali Cycling Tour Includes :
Air conditioned Hotel Transfer
Fully serviced mountain bikes, Gloves and Safety Helmets
Soft drink,mineral Water and snack en route
Friendly. knowledgeable guides to ensure a amazing day
Indonesian Lunch at modern Balinese Family environment
Insurance
Bali Cycling Tour Terms and Conditions :
Minimum Bookings 2 people
Cancelation Fee 50% will be surcharged if our transport has been waiting at the lobby
How To Book the Bali Cycling Tour
Choose which Bali Cycling Tour Packages you want to book
Fill The Booking Form provide and make sure you put valid email address, so we can reply after received your Tour or Activity booking request.
After we received your Tour or Activity booking request we will reconfirm again your booking request, to make sure all request is correct.
Fill with hotel name if you already have place to stay, so we will not missed the pick up, if not just leave it blank
Privacy Policy
Your reservation is abolutely secure. All personal data is encrypted and will be processed in a secure way. Bali Golden Tour takes the privacy of your personal data very seriously. Your personal information will only be used to process your booking.
We are sorry, there are no reviews yet for this cruise.